eBay cheats on Yahoo! with Google
Link: eBay cheats on Yahoo! with Google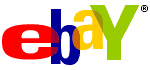 In a remarkable twist, eBay - who had recently partnered with Yahoo! for advertising - has now opened it's doors to allow an additional advertising partnership with Google.
Previously eBay had signed up to allow Yahoo! to provide exclusive advertising for US markets - the new deal gives Google exclusive advertising right outside of the USA.
Also surprising is the fact that eBay owns Paypal, which is seen as a direct rival to Google's recently released Google Checkout service.
The move is probably an astute one for both companies - eBay has seen rising criticisms of its costs to merchants and quality of service, and by partnering with both Yahoo! and Google it can look to develop additional revenues.
Google also benefits by integrating with a key internet giant, which again can only help with revenue generation, especially considering that Google's profits to earnings ratio shows that investors see more potential in Google's future than is currently being realised.
Overall, it's a remarkable co-alliance by companies that could otherwise be in competition, and certainly helps eBay position itself better as a company despite the lagging consumer confidence.