EU to suggest new car tax regulations
Link: EU to suggest new car tax regulations
Filed under: General News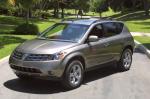 Radical new plans to create uniform regulations across Europe on linking car taxes to emissions, are to be formally presented to the finance ministers of member nations, after the July 1 transfer of the EU presidency to Britain.
The changes have been under consideration by the European Commission since 2002. Aims of the changes include making cars more environmentally sound and avoiding double taxation of car owners who move from one member nation to another.
The tax commissioner for the EU, Laszlo Kovacs, has said that he will propose that each nation's annual car registration tax be abolished and absorbed into each country's annual car tax within 10 years, and that by 2010 half of the tax on each vehicle be based on how much carbon dioxide a car releases into the air.
At present, car registration taxes are as high as €16,000 ($20,000, £11,000) in some nations, such as Denmark, and nonexistent in other nations.
Approval of the new plan faces an uphill battle, as some finance ministers are opposed on principle to tax proposals from the EU and because the plan would have both short-term and long-term effects on the revenues of each nation within the EU.