Apple attacks iPhone clones as Cisco may lose trademark
Link: Apple attacks iPhone clones as Cisco may lose trademark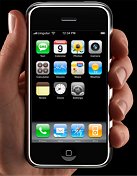 A number of programs have begun appearing online that mimick the Apple iPhone's iconic appearance, for use on other products.
One is a mock-up of the Apple iPhone interface for a Pocket PC running Windows; Another is a theme customised for a Palm OS device.
However, Apple has reacted angrily to the flattery and begun issuing legal notices against website owners who link to software intended to mimick the Apple iPhone on other devices.
While some may consider the action heavy-handed, we've seen a growing trend online of companies bringing legal action where internet users have linked to potentially illegal content.
Apple vs Cisco
Meanwhile, on another legal front it looks as if Apple's termerity in challenging the trademark ownership for "iPhone" may have merit.
According to Ed Burnette in a report at ZDnet, Cisco's ownership of the iPhone name would have been dependent on it having being used commercial through the six year period after registration.
However, Cisco have no apparent record of such use of the Trademark, and their only claim to ownership is suggested as dependent upon a filed image of a Linksys CIT200, with a sticker over the shrink-wrap bearing the word "iPhone".
Yet the CIT200 the extensively reviewed online over 2005-2006, and the use of the word iPhone only appears after an official relaunch in December 2006.
The suggestion is that Cisco may well have fumbled the ownership of iPhone, leaving Apple clear to use it unimpeded.
Overall, while Apple's tactics in squaring up against bloggers and Cisco may appear somewhat aggressive, the survival of the iPhone as an exclusive Apple product could depend on it.
Meanwhile, here are screenshots of the iPhone clones:
Windows Poocket PC - iPhone skin: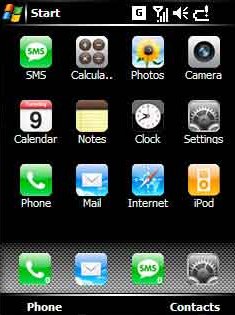 Palm OS: iPhone skin: