November 21, 2006
GOOG shares over $500
by
Brian Turner
If you're new here, you may want to subscribe to my RSS feed. Thank you for visiting!
Shares in Google have topped over $500 each today, creating a market cap of over $154 billion.
This makes Google the world's 22nd biggest company by market valuation.
However, Google has only a quarter of the revenues of the lowest earning company in the top 30 by comparison, and isn't even in the top 60 companies for earnings.
At present, the biggest companies by market cap, are as follows: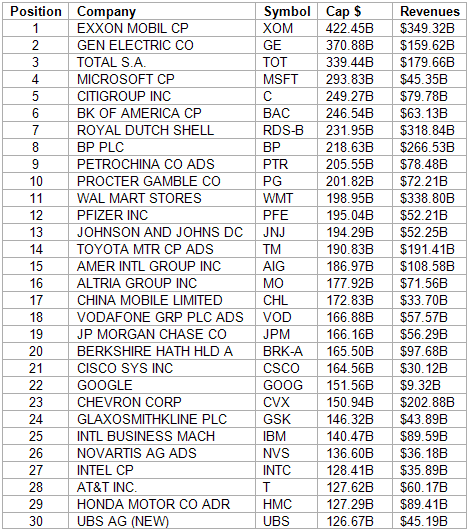 As the table illustrates, Google's excessive ratio of market cap to earnings can only mean the Google stock bubble is getting bigger.
The likelihood is that this can only burst in future - and take a number of related tech stocks down with it.
Discuss this in the Internet Business forums
Story link: GOOG shares over $500
Add to Bookmarks:







Previous: «
Exterity bundles IPTV packages for hotels
Next:
Social networks Digg false stories
»
Visited 1413 times, 4 so far today